Where to Go
Howth
The Howth Peninsula is a small fishing village and harbour on Dublins northside. You can get fantastic views of Dublin city and Dublin Bay from the top of Howth Hill.
Cliff pathslead around the Howth Head peninsula
Local pubs in Howth include:
The Cock Tavern
The Abbey Tavern
The Summit Inn
Bá Mizu in the Bailey Court Hotel
Wrights Findlater
The Bloody Stream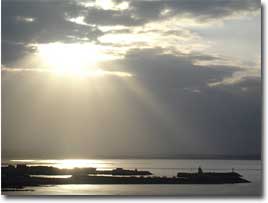 Restaurants include:
The King Citric
El Paso's
Bailey Court Hotel
Howth Peninsula Festival
The Howth Peninsula Festival will run from Friday the 14th of July 2007 to Sunday the 16th of July 2007.
This festival is always a great day out for the entire family.
This year it will include:
Howth Market
Photographic Exhibitions
Art exhibition
Fun Fair
Boats to Ireland's Eye
Tours of the Baily Lighthouse
and much more
Full listing of Howth Peninsula Festival Events